Luna Cycle specialises in affordable but high-quality electric bikes and components. But the Luna X1 Enduro Ebike is a little different, combining some pretty high-end components with extreme performance.
So in this Luna X1 Enduro Ebike review, we'll look at the details to see if it lives up to the hype. We'll highlight what this ebike is, who it's for, and if it's any good.
What Is The Luna X1 Enduro Ebike?
The Luna X1 Enduro Ebike is a full suspension electric mountain bike with a carbon fibre frame. It's very well priced compared to bikes with similar specifications.
This is Luna's first enduro electric bike. Enduro bikes are designed to tackle big climbs and technical descents, so they have to be rugged and high performing.
The Luna X1 enduro ticks all the boxes for an electric enduro bike. It features a powerful motor and pretty high-end components. It's aimed at mountain bikers who want to explore new terrain and are not afraid of the rough stuff.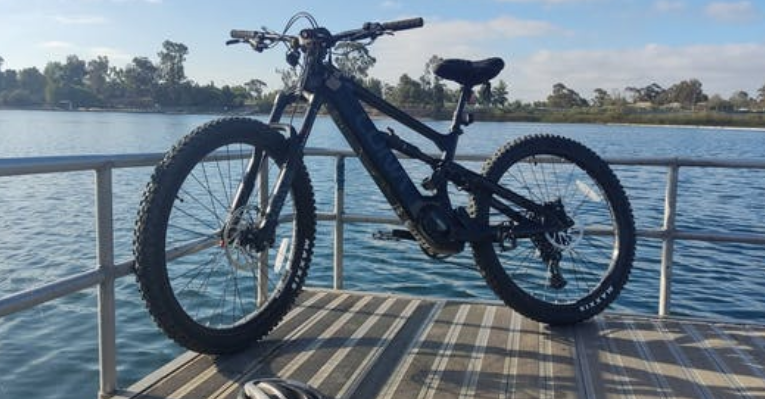 Luna X1 Enduro Features And First Impressions
Motor And Battery
The Luna X1 uses a Bafang M600 motor that gives you a potent 750W. But Luna offers a "Ludicrous Mode" version that takes power to a colossal 2,000W. The power from this thing makes riding up the side of a mountain a piece of cake.
Luna has made the X1 a mid-drive electric mountain bike with the motor positioned between the cranks. This low down and centred position balances the bike, which is much better for riding the rugged terrain it's meant for. It also makes it more efficient for pedalling, as the motor is directly connected to the drivetrain.
The bike uses torque sensors to determine how much power to call from the motor when you're pedalling, depending on your chosen assistance level. This gives the bike a more natural feel, even though you have lots of power on tap.
You can tweak the power available with a screwdriver to bring it down to about 600W. This allows you to adjust it to your local laws if necessary.
The monstrous motor is powered by a 14.5 ah / 700 watt-hour removable battery that fits almost seamlessly into the frame. It has Panasonic GA cells, so you know you're getting a quality battery.
Luna claims the range to be around 30 to 40 miles (50-65 km). But this depends on how you ride and the profile of your journey. So if you manage your battery life well, you should be able to explore the wilderness with ease.
The Luna X1 Enduro ebike has a throttle mode to make it even easier. This means you can ride without pedalling, creating a different experience from most electric mountain bikes of this type.
Display And Controls
The display is very easy to read as it's bright and has clear and attractive graphics. It shows essential information such as current speed, battery life, mileage, pedal assist level, and other odometer features.
The controls are simple buttons mounted next to the handlebar grips and have a nice feel. Pressing the thumb throttle on the left side of the handlebar allows you to ride without pedalling. The harder you push, the faster you go, much like a moped or scooter.
There is a slight concern with the LCD screen, but we'll come to that later.
Frame
The Luna X1 Enduro's frame design is striking at first glance with its chunky tubes and elegant design. But when you take a closer look, you can't help but be impressed by how the motor is integrated into the frame.
Also, the removable battery is hidden within the frame, protecting it from damage and wet weather. This is extremely important for enduro riding.
The frame is made from carbon fibre to make it as light and as strong as possible and is available in four frame sizes, 15.5″, 17.5″, 19.5″ and 21″.
Luna has given the X1 low and slack geometry, so it's stable on steep and technical descents. Its appearance is rugged but conservative enough to pass for something legal on the bike path unless you're powering along at top speed.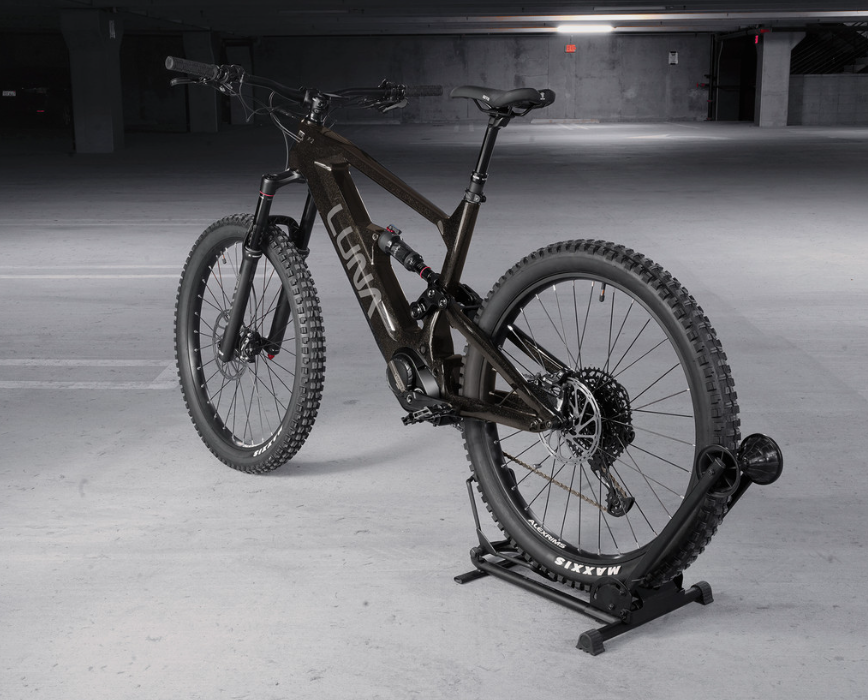 Suspension
Luna describes the X1 as an electric enduro bike, so it needs some outstanding suspension components to live up to this title. We were surprised and relieved to see that Luna has done it properly. They've fitted the X1 with an excellent RockShox Debonair fork with 160 mm of travel and a RockShox rear Monarch shock absorber with 200 mm of travel.
This demonstrates that the Luna X1 Enduro ebike is a serious contender for more expensive bikes from more established brands.
The suspension setup allows you to take on bike alpine terrain and natural and technical trails.
Wheels And Tyres
Luna hasn't gone with the current trend of putting 29″ wheels on mountain bikes. Instead, they've gone with 27.5″ wheels to give the bike more agile handling.
These wheels are fitted with 2.8″ wide Maxxis Minion tires, providing excellent grip, ideal for rough enduro riding.
The grip also helps in wet weather.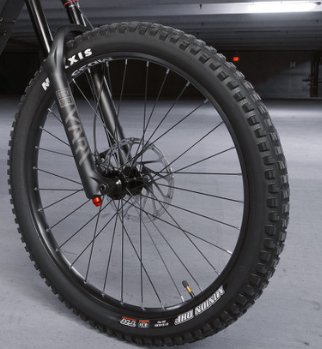 Brakes
With all that power and off-road capability, you'd expect the Luna X1 Enduro to have pretty good brakes. And you'd be right, as stopping power comes from some excellent SRAM 4 piston hydraulic disc brakes.
These brakes give you lots of control and have great feel through the levers.
Drivetrain
Luna has given the X1 Enduro ebike 12 gears. Some may suggest that this is unnecessary when you have a 2,000W 95Nm motor to play with. However, when you're trying to squeeze the last bit of assistance from your battery to get home or run out entirely, you'll be thankful for the larger chainrings.
The 12-speed drivetrain is the excellent Sram SX Eagle. Which is another indication that Luna is serious about producing bikes with decent components.
Wondering how long electric bikes last in general? Find out here.
What We Don't Like About The Luna X1 Enduro Ebike
There's not much we don't like about the Luna X1 Enduro ebike. But we've highlighted a couple of minor concerns.
The Derailleur Could Be Better
We would like to see a more robust derailleur fitted if we're being picky.
The SRAM SX Eagle derailleur fitted is good, but a GX would be a better choice, as there would be more chain tension when riding in the smaller gears. However, if Luna fitted a GX, they wouldn't be able to sell this bike at such a low price.
The LCD Is Vulnerable And Distracting
Another thing we were a little concerned about is the LCD screen. The LCD is good, clearly showing you all the necessary information, but it is pretty vulnerable.
The LCD sits high on the handlebars, which makes it susceptible to crash damage. An LCD with a slimmer profile mounted in a more discrete place would be better, considering the type of riding the Luna X1 is built for.
You may find the LCD to be quite distracting due to its size and position. The large screen is mounted right in the middle of the handlebars and constantly catches your eye. But perhaps this is something you'd get used to after a few rides.
Because it can be quite delicate, you have to be careful when cleaning your electric bike. Especially if you like to use a high powered hose.
What's The Luna X1 Enduro Like To Ride?
Many people compare the Luna X1 to the Specialized Levo. The Levo is much more expensive, so you have to expect a few compromises. The Specialized Levo's drivetrain has a refined power delivery. There's a slight delay for the motor to kick in when you start pedalling the X1, but it's pretty good once you get going.
Riding the Luna X1 Enduro ebike on the throttle is lots of fun and adds a new dimension to your riding. You can almost treat it like a motocross bike, but don't forget, this will zap the power from the battery if you do it too much.
When riding with pedal assist, the lowest level doesn't feel like it's doing much, but that's the nature of ebikes. But when you crank it up to level 5, you really notice how punchy the motor is, making climbing hills a breeze.
Check out our review of the Friend Ebike here
Check out our DYU DF3 electric bike review here
Our Verdict Of The Luna X1 Enduro
The design and spec of the Luna X1 Enduro somehow blurs the lines between a mountain bike, electric bike, and motocross bike. This electric bike is lots of fun, and it will take you pretty much anywhere you want to go.
When you compare it with other bikes built for the same purpose, you'll find that the drivetrain is a little less refined. But you'll have to pay nearly a third more for something comparable or to beat it.
If you're looking for a proper enduro-style electric bike, the Luna X1 Enduro is an excellent option. Luna has created an electric bike with full-on performance specs with a super-lightweight carbon frame. The high-end components from recognised brands will cope with enduro riding with no problem, even though they aren't top spec.
If we were to give the Luna X1 a star rating, we'd award it 4 out of 5. It only drops one star as we'd like it to have a higher-spec derailleur. But, it wouldn't be in the same price bracket, which is the compromise.
You can find more electric bike reviews here. While our blog is full of useful information regarding electric bikes in general.