Friend Bikes specializes in compact, foldable electric bikes. They pride themselves on high-quality and excellent customer service, but do their electric bikes live up to the company's claims?
This Friend ebike review will delve into the details of the Friend 1.0 and 1.5. You'll learn about the specifications, the differences between models, and all the information you'll need to decide if they're the right electric bikes for you.

What Is The Friend Ebike?
The Friend Ebike is designed with versatility in mind. Its features make it user-friendly and suitable for many people. Friend Bikes are marketing its products to people who want a cleaner mode of transport, outdoor lovers, and people with health problems.
This ebike is also aimed at those who need something compact enough to store and transport easily.
Friend Ebike Features And First Impressions
Motor And Battery
The Friend Ebike has a potent 750W rear hub-mounted motor. The motor is powered by a 10.5Ah battery, while the Friend 1.5 comes with an additional 17.5Ah Samsung battery that is interchangeable. This is the only difference between the two electric bikes.
Friend claims the motor and 17.5Ah battery combo can give you 50 to 70 miles between charges and takes 8 to 9 hours to fully charge. While the standard 10.5Ah can take you 20 to 35 miles with a 5 to 6-hour charge.
So if you want to ride further or get range anxiety, you will want to pay the extra for the Friend 1.5.
However, as with any electric bike, your range will be affected by how you ride the bike, your weight, weather conditions, and the profile of your journey.
The power from the Bafang motor is welcome when your cargo rack is fully loaded or you have a hill to climb. This is because the motor delivers its 80Nm of torque smoothly and consistently. You can feel the torque all the way up the limited top speed of 28mph, which is more than enough for most ebike riders.
Display And Controls
The Friend Ebike has a simple but very effective Yonglin 80C display mounted to the handlebars. It does a great job of providing vital information like your current speed, battery life, mileage, pedal assist level, and other odometer features.
We like how easy the LCD is to read, even in direct sunlight. This is very important, especially when you're picking your way through heavy traffic.
You scroll through the assistance levels with the additional buttons mounted on the handlebars. These are easy to use and have a nice feel to them. The Friend Ebike also has a throttle mode, allowing you to ride without pedalling at all. Just use the twist grip to accelerate and decelerate as you wish.
Frame
We are super impressed by the foldability of the Friend Ebike. Foldable electric bikes have a whole new level of usability, especially when they're as easy to fold as this bike.
The Friend Ebike measures just 37 x 33 x 20 inches when folded, which can be done in just a few seconds. Therefore, you can carry it on public transport, easily put it in your car, and stash it away under a desk or in any tiny space to keep it out of the way.
The frame design also makes the Friend Ebike easy to live with on a day-to-day basis. It has a step-over design, but the top tube is only 20″ high, so mounting and dismounting the bike is easy, even if you have mobility issues.
You can fine-tune the upright riding position with the adjustable handlebars and seat post. Therefore, you can be sure to ride without any unnecessary stress on your back or upper body.
If you need to carry stuff with you, you don't have to load up a backpack. This is thanks to the robust rear-mounted cargo rack that comes as standard. The rack can hold up to 40lbs, so you should be able to carry everything you need for the day. For extra load carrying capacity, you can buy optional pannier bags that fit onto the cargo rack.
Suspension
The Friend Ebike is unusual for its type, as it is a full-suspension electric bike. This means that it not only has a suspension fork, but also a rear shock absorber.
The suspension fork does a great job of reducing vibrations that would usually be transferred into your hands and arms. Your ride quality is made more plush by the rear shock, but it also helps with the Friend Ebike's off-road prowess.
Now, you need to realise that you won't be tackling any alpine descents on the Friend Ebike. But if your commute consists of the odd dirt track, cobbled street, or broken pavement, you will find the Friend Ebike more than capable.
Wheels And Tyres
One of the standout features when you look at the Friend Ebike, is its fat tyres. These 4″ wide tires contribute to the bike's comfort but also give you lots of grip. You can ride on multiple surfaces, thanks to the width of the tyres. So you can use your Friend Ebike to enjoy a day out at the beach, light off-road trails, and riding over snow and soft mud.
Fat tyres are the ideal solution if you're a little nervous about riding an electric bike. Their larger contact patch with the ground instils confidence. This electric bike's tyres eliminate the feeling of the wheels washing out in the wet, making the Friend Ebike ideal for those new to the world of electric bikes.
The tyres are wrapped around rugged 20″ mag wheels. These wheels are solid, so they don't have regular spokes, as their spokes are integrated due to the design. This means that you get stronger wheels that will never need truing back into alignment, which can be a problem, especially with all that torque from the motor.
Brakes
We love the fact that the Friend Ebike has disc brakes. The brakes provide lots of stopping power, but if we're being picky, we would prefer to see hydraulic disc brakes rather than mechanical ones.
Hydraulic brakes would give the Friend Ebike better stopping performance. You'd also have more control from the better modulation in the brake levers, especially when your cargo rack is fully loaded. But for most people's needs, the mechanical disc brakes are sufficient.
Drivetrain
The Friend Ebike has a 7-speed drivetrain from Shimano. Therefore, you get fast and reliable shifting, so you can be in the right gear at the right time.
The shifters have a light action for effortless gear changing, and the fact that it's a Shimano drivetrain gives you peace of mind that its components are high quality.
What We Don't Like About The Friend Ebike
There's not much to add to this section, but a few things could be improved on the Friend Ebike.
The Saddle Is A Pretty Firm
The first thing that could be better is the saddle that comes with the bike. It's not the most comfortable saddle due to its firmness. You may find it satisfactory, but if it's too hard for your liking, you can easily change it for a squishy gel saddle.
The Cruise Control Takes Some Getting Used To
One of the surprising features of the Friend Ebike is that it has automatic cruise control. When you're riding in throttle mode, after a few seconds, the cruise control automatically activates to maintain your speed.
You need to be aware of this, as it could be pretty alarming when you're approaching a junction or traffic light and it kicks in. You can't switch this feature off, so you will need to get used to it. Maybe this issue will be addressed in future versions of the Friend Ebike.
Check out our Luna X1 ebike review here.
Mudguards Are Not Standard
Unfortunately, the Friend Ebike doesn't come with mudguards as standard. So if you ride in bad weather, you may want to upgrade to enhance your comfort.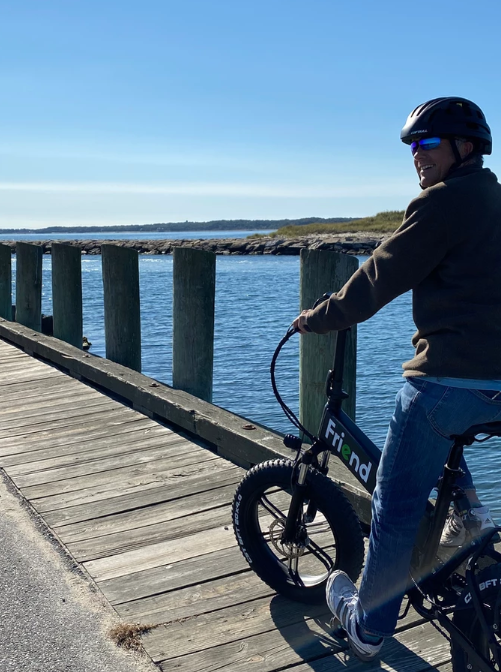 Our Verdict Of The Friend Ebike
We are big fans of the Friend Ebike. We like the punchy motor, plush ride quality and versatility. This is the kind of electric bike that appeals to many different cyclists' needs, whether you're a commuter or want something for weekend fun or running errands.
The minor shortcomings highlighted above are entirely overshadowed by the Friend Ebikes advantages. You can easily resolve the issues by slightly adapting your riding and adding accessories, which is actually pretty fun.
You will find the Friend Ebike lots of fun to ride too. Its big squishy tyres and suspension will take you places an electric hybrid can't. Of course, you need to be realistic about its off-road performance, but if you want to ride trails, you'd be better off with an electric mountain bike.
With all this in mind, we rate the Friend Ebike a solid 4 out of 5. We would've given it 5 out of 5 if it had hydraulic disc brakes and if mudguards were included, but these aspects should not put most riders off buying a Friend Ebike.
You can check out more electric bike reviews here, and read up on our ebike articles over at our blog.