Hitway is a new brand that brought multiple electric bikes to market in 2020. They offer folding, mountain, and commuter ebikes along with e scooter options too. They're based in France, and sell in Europe, the USA, and the UK.
We've seen and tested hundreds of newer bikes like these and as Hitway offers its bikes at a relatively cheap price point we can see how they're going to be an attractive proposition for those looking for a good entry level electric bike – but will you be compromising on quality? Here, we'll review the Hitway electric bike and give you our opinion on whether it's worth it or not.
Hitway Electric Bike Options And Price Points
Before we really get into the main sections of our Hitway electric bike review we've pulled together a table so you can see how much the more popular Hitway models cost. Hitway runs frequent sales, so it's important to try and snag one when they're on offer. 
If you've been researching ebikes for a while you'll see straight away that they're relatively cheap.
| | |
| --- | --- |
| Model | Price |
| Hitway 26" mountain electric bike | $769.00 |
| Hitway Electric Bike lightweight (foldable) | $569.00 |
| Hitway Commuter ebike | $869.00 |
| Hitway foldable fat tyre ebike | $759 |
As you can see, the cost varies but stays pretty consistent and is eminently affordable to those looking to dip their toe into electric biking.
What Is The Hitway Electric Bike
So, what is the Hitway electric bike and what makes it different from other brands out there? Hitway claims to be a short distance bike brand packed full of tech. Here, we've reviewed its flagship model, the electric mountain bike. 
Hitway bikes are focused on usability and ease of use. They state multiple times that their focus is primarily on flexibility, freedom, and exploration. After trying out hands on one of their bike we think that this statement is mainly true…they do try to make things as easy as possible for their customers.
They also state they're progressive in their feedback and rapidly incorporate customer consensus into their future models.
The tyres are both waterproof and puncture resistant too, so they should last a while without needing maintenance.
So, the Hitway electric bike is an attempt at creating a quality and approachable bike at the entry level market. We think they've gotten this element right. The problem comes where more experienced riders or new riders wanting more functionality are shopping around, because the Hitway does fall short in a few areas. That said, the price point is perfect for casual riders and those wanting to get onto the electric bike scene.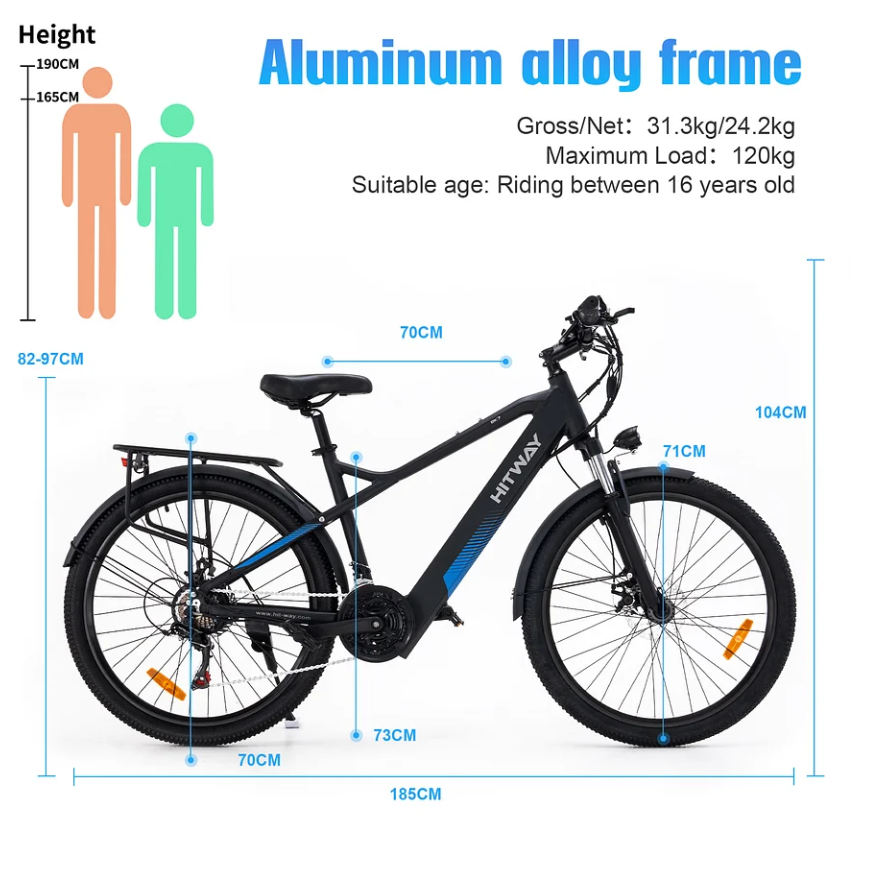 Hitway Features And First Impressions
Design and Build Quality
The Hitway bikes feel solid and well made, and the foldable ones collapse and unfold easily. It doesn't rattle or shake when you're riding and it feels sturdy at speed.
The mountain bike's 26" wheels make easy work of rough ground while the aluminum alloy, while light, still feels solid enough to throw around on bumpy downhill sections.
The dual disc brakes can take a lot of wear and bring us to a smart stop when tested. The brakes are to the front and rear so are adept at bringing the electric bike to a stop no matter what mode you're using.
Hitway Electric Bike Battery
The Hitway electric mountain bike is powered by a 36v 11.2AH lithium battery. The battery slots into the frame to help keep the bike well balanced and aerodynamic. Hitway say the battery only takes six hours to charge.
Hitway gives a wide range of 30-90km on one full charge, depending on what mode the bike is in when using it. Using a mixture of pure electric and assist generally gets a range of around 40km. However, with a 6 hour charge time you can charge while at work, and overnight, ensuring it's always good to go.
Of course Hitway use the usual disclaimers regarding range. They state:
"Range depends on factors such as load, road conditions, temperature, and riding style."
This is quite usual for electric bike manufacturers to do. Yet, a lot of manufacturers will explain what conditions their claims came from. For example they'd give the range and say that it's based on a certain weighted person, on a flat road, for a certain amount of time. Hitway hasn't done this so we'll just have to take their word for it.
Heads Up Display and Controls
The LCD display isn't anything special, but it relays the key information you'll need while using the bike. Hitway call it a multifunctional HD display…but in reality it's a few numbers.
The Hitway LCD displays:
The current mode the bike is in
It's a welcome addition on a bike at this price point but at the same time, it's pretty barebones in what it does.
The controls are pretty intuitive. Switches on the right and left control the throttle, bike mode, gear, and twin brakes. They feel responsive even at speed and can be easily reached.
How Does The Hitway Ride
The bike has an average ride. It boasts a 21 speed transmission system and the front fork is supposed to absorb bumps and work with the shock absorbers. That said, the seat isn't the comfiest and does pass on some of the shock straight to the rider, especially on bumpy roads. Heavier riders might find it more uncomfortable.
The Hitway suspension fork does cope with bumpier roads but it doesn't have rear suspension. Our belief is that the suspension and ride lend the Hitway to being fun for casual mountain bikers but probably not suitable for more extreme courses or those who view mountain biking as a serious hobby. The same is said for the other Hitway electric bikes too. They're great for casual users, hobbyists might find them a bit too "entry level" due to the ride quality.
Hitway Bike Modes
As discussed the Hitway comes with three main riding modes. These are pure electric mode, assist mode, and normal riding mode. We'll quickly cover each one here.
Pure Electric Mode
The pure electric mode on the Hitway Electric Bike has a range of under 35km. This is essentially a moped mode, where you flick a switch or push a throttle and don't have to peddle at all.
Depending on where you're riding, you need to be careful because different states have varying laws regarding Class 1 electric biking. We found that 35km is on the more generous side as if you throw a few hills into the mix we'd suggest the actual range to be somewhere in the mid to high twenties. 
The Hitway claims a max speed of 25km an hour, which we found consistent too during our time with the bike.
Assist Mode
The assist mode range comes in at 35-90km. If you're used to electric bikes you'll know that this mode is where the electric bike motor is working to give you additional push while you're still riding. It's the most common mode on electric bikes. We would have welcomed the option to fine tune the assist level to provide more or less power within the assist mode, but the Hitway doesn't provide the option.,
Normal Riding Mode
This isn't really a mode, it's just a bike as a bike was originally conceived to be. No electrical assist whatsoever. We tried it out and it didn't feel like riding a normal bike. It felt like riding a bike with an additional chunk of weight added in due to the battery. While this is true of all electric bikes, this did feel a bit chunky so if you're caught short without battery power and have to tackle a steep hill on zero charge it's something worth keeping in mind. l 
Hitway Electric Bike Review Verdict
It's like we said. The ride leans us to believe that the Hitway electric mountain bike and indeed, the Hitway range entirely is better suited for entry level, casual riders instead of serious ebike enthusiasts. With that said, we think that's exactly what the Hitway is meant to be. The price point screams "entry level", but you do get a lot for the price. For an entry level bike for those just getting started in electric biking, the Hitway isn't a bad call. If you're familiar with ebikes, you might be better off looking further up the electric bike chain.
In all, we'd give it a 6.5/10. 
Our similar ebike reviews:
If you've enjoyed our review of the Hitway electric bike check out our other electric bike reviews here. You can also read our blog for general advice on electric bike ownership and use.