Crew Bike Co. is based in Southern California and specializes in providing urban bikes. As a brand, they are pretty new to the electric bike scene, but the founders and team have lots of ebike experience and knowledge. California has for a while been associated with technological innovation, start ups and future growth, and it seems like this applies to electric bikes too. In this Crew Dart V2 electric bike review, we'll delve into the details. You'll learn who this electric bike is designed for, what it can do, and if it is the right one for your needs.
They have brought their team's skill sets together to build high-quality electric bikes with meticulous attention to detail. A great example of their offerings is the Crew Dart V2, which we'll review here.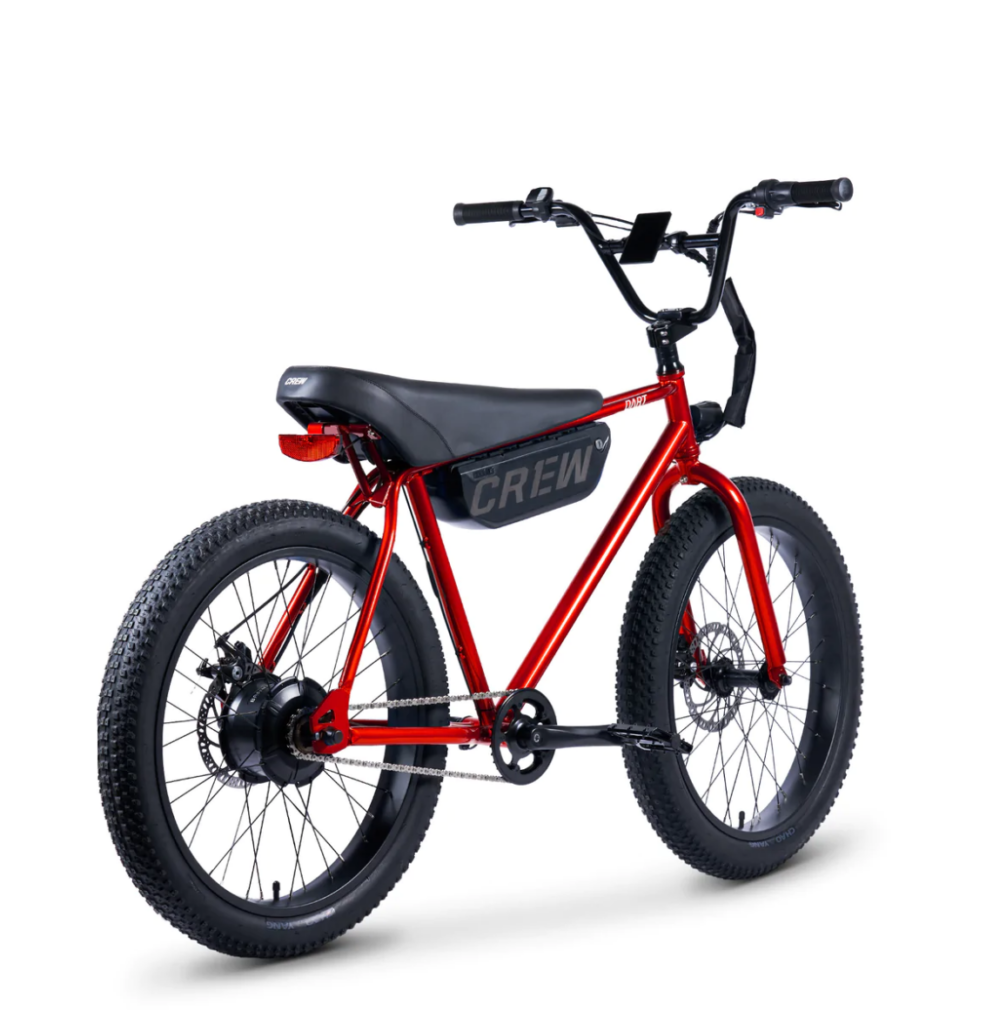 What Is The Crew Dart V2?
The Crew Dart V2 is a BMX-inspired electric bike designed as the perfect run-around. You instantly know that fun is at the top of the list when you look at the frame design, chunky tires, and chopper-like saddle.
This bike is aimed at people who want a characterful electric bike that is more interesting than the regular commuter or hybrid ebikes. You wouldn't ride the Crew Dart V2 on challenging mountain bike trails, but like a BMX, you can ride it on paved roads and mild dirt tracks. You would probably only use this for running errands if you wear a backpack, but you'd have a lot of fun on the way.
Crew Dart V2 Features And First Impressions
Design And Build Quality
If you're familiar with BMX bikes, you'll find the Crew Dart V2's frame design and riding position very familiar. This feeling of familiarity is enhanced by the Chromoly frame and fork and the low-rise handlebars. The main difference is the long saddle that adds more comfort while separating it from its dirt racing/freestyle cousin.
The first impression you get when you see the Crew Dart V2 is that it is quite a compact electric bike with small 24″ wheels, but it feels robust. This sturdy feeling comes from the stiff frame material, the arrangement of the tubes, and the wide rims.
Another thing we like with the Crew Dart V2 is that it comes in 5 different colors at present. These are:
It's nice to be able to customize the bike with a favourite color.
Crew Dart V2 Weight
The crew dart V2 weighs in at around 58lbs. Not too heavy, but not on the super light side of the scale either. The weight allows some nice acceleration, depending on your personal body type. If you're wondering where this fits in against other electric bikes, check out our article on electric bike weight here. In our experience, this is in the sweet spot of weight, allowing you to ride it around freely without worrying about it dragging you down after a while.
Motor And Battery
The Crew Dart V2 has a 750W motor mounted in the rear wheel hub. It has a top speed of 28mph, so you must ensure that it is legal to ride in your local area. We were very impressed with the way this thing accelerates in both pedal assist and throttle modes.
Crew has fitted the battery on the underside of the top tube beneath that long seat. The battery is a 48v, 13Ah Lithium-ion battery that gives you 20 miles of range on the throttle and 25-35 miles with pedal assist, depending on where and how you ride.
How Crew Dart V2 Rides
As we mentioned earlier, this electric bike accelerates very quickly. So much so that you need to be careful with the throttle until you get used to it. When it comes to your first ride, fight the temptation to go full power straight away, and ease yourself into it to avoid getting into trouble.
The short wheelbase and small wheels give the Crew Dart V2 agile handling. Therefore, you'll love hopping off curbs and whipping it around tight bends. This handling is complemented by the wide, grippy all-terrain tires, giving you plenty of confidence riding it in the wet and on loose surfaces.
Even though the wheels and tires are small, you get a reasonably smooth ride. This is thanks to the squish from the high-volume tires, as the Dart V2 doesn't have suspension. But if it did, it probably wouldn't be as fun to ride, and it would be much more expensive.
The Crew Dart V2 is a single-speed bike, meaning it doesn't have a derailleur. The advantage of this is that there's less to go wrong with it, but it does mean that it hasn't got a particularly long range. That big motor is doing a lot of work when you get to a steep hill, sucking the energy out of the battery. However, you'll love how it performs on flat terrain.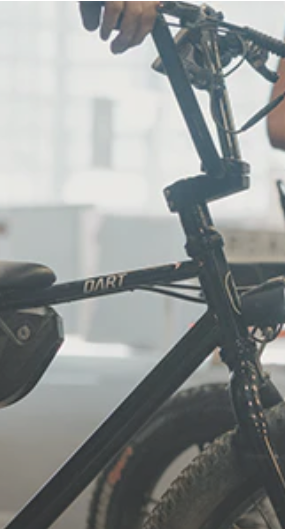 Display And Controls
The Crew Dart V2's onboard display sits in the center of the handlebars. It looks a bit like an iPhone with an uncomplicated look, and the information is easy to read when you're whizzing about.
You cycle through the 5 pedal assist modes using the buttons mounted near the left handlebar grip. These buttons are soft touch and feel like they would last a long time exposed to the elements. The right handlebar grip is home to the twist throttle, which is satisfying to use.
How Easy Is The Crew Dart V2 To Live With?
The Crew Dart V2 is quite a minimalist electric bike. By this, I mean that it has no kickstand, cargo racks, or fenders. Therefore, you may want a different electric bike if you want a regular commuter.
However, the upright riding position is comfortable and enhanced by the plush saddle. Sometimes these longer saddles are also pretty wide. This is great for riding on the throttle but makes pedaling uncomfortable and awkward. But the one on the Crew Dart V2 is reasonably narrow, so it doesn't hinder your pedal strokes while being comfortable.
The upright riding position is excellent for pedaling around in urban environments, as you can easily see all around you. But it is also perfect for your range of motion, allowing you to make quick turns, avoid obstacles, or find something to jump off.
The simplicity of the Crew Dart V2 makes it easy to live with. But you need to really consider if it is the best choice for you. It is lots of fun to ride, but there are more practical electric bikes with a longer range. So think about what your priorities are. 
Crew Dart Safety
Crew has fitted the Dart V2 with mechanical disc brakes with massive 180mm rotors. These brakes are easy to maintain and provide lots of stopping power in all weather conditions. This system is much better and safer than rim brakes.
If we're being picky, we like to see electric bikes with this kind of power fitted with hydraulic disc brakes; but maybe we're just spoiled.
The Dart V2 has a bright headlight that illuminates the road ahead pretty well in low-light conditions. But if you do lots of night riding, we always recommend that you add an additional light to your handlebars or helmet for extra safety.
Crew has also fitted a taillight under the saddle that doubles as a brake light. This is a welcome addition, as road users behind you know precisely what you're doing, enhancing your safety.
Those wide all-terrain tires instill confidence when riding the Crew Dart V2. They provide lots of grips, so you don't have to worry too much about your front wheel washing out when you're having fun. 
Crew Dart V2 Cost
The bike costs $2,400rrp. It may vary from one dealership to the next. This is a really good price for an electric bike, as evidenced by our article on pricing here. You could pay more and get a more complete electric bike. However, the price is right in the "good electric bike" range, so you can expect a good bit of equipment that should last the test of time. We think it's fairly priced, so long as dealers stick to the RRP.
What We Don't Like About The Crew Dart V2
We need to talk about the negatives of the Crew Dart V2 to give you the complete picture. However there's little to add to this section, but there are a couple of things that could be better.
This electric bike only comes in one size; therefore, you need to be sure that it fits you. This is especially important as you cannot raise or lower the saddle. You can adjust the handlebar height by removing or adding spacers. It is possible to adjust the reach by changing the handlebar angle too, but that's about it.
The range is a little short, so if you ride long distances, you'll need to up your battery management game. However, this electric bike is designed for lots of fun on short trips, which may be what you're looking for.
The range would be improved if the Dart V2 had gears and a derailleur. However, these would increase the price of it significantly and require more maintenance. This would be the same story if Crew fitted hydraulic disc brakes.
Aside from the other general disadvantages of an electric bike, those are really all there is in terms of drawbacks specific to the Crew Dart V2.
How Does It Compare To Other Crew Bikes?
The Crew Dart V2 isn't the only electric bike, or normal bike, that Crew manufacture. Although we've focused on the Crew Dart V2, here are some of the other bikes made by Crew, along with their costing in relation to the Dart V2.
| | |
| --- | --- |
| Model | Price |
| Crew Dart V2 (Reviewed) | $2,400 |
| Crew Dart (first model) | $1,299 |
| Crew Bike co. Sprinter | $2,200 |
| Crew Bike Co. CB29″ BMX Bike | $499 |
| Crew Bike Co. District Track Bike | $425.45 |
| Crew Ace Track Bike | $425.45 (if on sale) |
| Crew Bike Co. Defender 700c | $379 (if on sale) |
Our Verdict Of The Crew Dart V2 Electric Bike
We'll summarize our findings to conclude our Crew Dart V2 electric bike review. 
The Crew Dart V2 is an entertaining electric bike to ride, thanks to its nimbleness and punchy motor. Riding on paved roads, gravel, and dirt tracks is lots of fun, and the brisk acceleration is addictive.
Even though it's a relatively simple electric bike, we think that this is where its qualities lie. OK, you'd get more range with some gears, but you'd have to do more maintenance. Instead, this is the type of electric bike you just jump on and go, grinning from ear to ear.
The Crew Dart V2 doesn't offer much in the way of practicality, but neither does a two-seater sports car, and people still buy them.
With this in mind, you need to think about what's important to you, fun or practicality. But remember, you only live once.
We give the Crew Dart V2 a strong 8/10.
If you've enjoyed our Crew Dart V2 electric bike review, you can check out our other electric bike reviews. We also have multiple articles on our blog, all regarding electric bikes and how to get the best out of them.