The E wave electric bikes are made by American Flyer. Based in Chicago, the company turned its hand to building bikes in the late 1930s and early 1940s. After struggling to compete with more prominent brands, American Flyer specialized in creating budget beach cruisers and is still considered one of the best manufacturers of this type of bike to this day.
American Flyer has brought its iconic design up-to-date with the E wave. These two beach cruiser-style bikes are equipped with rear hub-mounted motors and batteries to make your riding effortless.
In this American Flyer E wave electric bike review, we will closely examine its characteristics. You will learn if this electric bike is for you, what it's capable of, and what it's built for.
What Is The E Wave 2.0?
The E Wave 2.0 electric bike takes the style of the classic Southern California beach cruiser and brings it up to date with a punchy mounted motor. The motor assists your peddling, but you can also ride it on the throttle. Either way, you can cruise down the boardwalk in style and with minimum effort.

E Wave 2.0 Pricing
It's worth noting right away that American Flyer often do discounts which include $350 off as well as free shipping. If they are currently running this offer, reach out to them and see what they can do.
The price of an E wave with their regular promotion is $1999.99. However, without the promotion it's $2,349.99. There's always a promotion, so make sure you keep an eye out when you hit purchase.
| | |
| --- | --- |
| Promotion Price | Non-Promotion Price |
| $1999.99 | $2,349.99 |
E Wave Color Options
We love the fact the e wave 2.0 comes with a few different color options. They're not huge, but they allow the user to put their own stamp on their new ebike. The customization factor doesn't come into our review score, but it's worth mentioning that the colors pop well and are well applied to the bike. The colors on sale at the moment are:
Satin Black
Gloss Grey
Gloss Orange
Satin Army Green
A fair mixture between ostentatious and toned down.
Who Is The E Wave 2.0 For?
This bike is designed for cyclists on a budget who still want something cool and comfortable with lots of power. It is not really something you would use for long pedals. It's more for those who prefer to cruise around and ride on the throttle.
It has enough power to be ridden like a moped while keeping up with traffic through town. Therefore, it is a pretty good commuter and for getting around effortlessly.
It's not for serious cyclists or ebike lovers, but it provides a great entry electric bike or an electric bike for part time or beginner hobbyists. It's also a great ebike for cruising around in the day with a friend for some casual exploration.
E Wave 2 Specifications
Here's a detailed table full of technical specifications for the e wave 2:
| | |
| --- | --- |
| Item | Description |
| Frame | 6061 Post-Weld Heat Treated Alloy Frame |
| Fork | Cro-Mo |
| Rims | Double-Walled/ Eyelet Alloy MTB Wheelset |
| Hubs | Sealed Beating |
| Spokes | 12g HD Stainless Steel |
| Tires | Kenda Revolution 26×2.5 |
| Crankset | 170mm Alloy |
| Chainwheel | 50t |
| Bottom Bracket | English Thread Sealed Cartridge-Cadence Sensing |
| Chain | KMC X9- Nickel Plated |
| Rear Derailleur | Shimano Altus 9-Speed |
| Rear Cogs | Shimano 9-Speed 11/36 |
| Shifters | Shimano Acera 9-Speed Trigger Shift |
| Handlebars | 27″ Alloy Cruiser Bend 25.4 |
| Stem | Quill 30 degree 1 1/8″ x25.4 Clamp |
| Brake Levers | Tektro E-Bike Hydraulic Brake |
| Brakes | Tektro Hydraulic Disc |
| Pedals | Wellgo Alloy Platform 9/16 |
| Saddle | Cruiser Saddle |
| Seat Post | 27.2mm 15 degree Setback |
| Seat Binder | Alloy Quick-Release |
E Wave 2 Features And First Impressions
Design And Build Quality
Each of the E wave bikes looks great and has that unmistakable beach cruiser style. One has a standard frame design, while the other is a step-through version. They have swept-back handlebars and an upright riding position to allow you to be comfortable riding with a relaxed posture.
We've mentioned the colors, but we think the color matches the style of the bike perfectly. Laid back, calm, and cool.
Motor And Battery
The E wave 2.0 has a rear hub-mounted Bafang motor with 500 watts of power. This can get you to a limited top speed of 20 mph with assisted pedaling or on the throttle. This means it is legal to ride in most places, but it's worth checking before you buy.
Standard, the bike comes with a 10-ah battery, but you can upgrade to a 14-ah battery for a more extended range. Your range depends on how you ride and the profile of your journey, but the extended battery has the potential to take you 112 miles before it needs charging.
How The E Wave Rides
This electric bike is not designed to be a high-performance machine that will take you over rugged terrain. Instead, it's used for relaxing commutes and getting around town for social engagements. Comfort is enhanced by the large volume tires (kenda revolution, not bad for an ebike at this price point), which do an excellent job of soaking up the vibrations and bumps from the road. However, as you would expect from a beach cruiser, the E wave 2.0 doesn't have suspension making it a rigid bike, so you need to manage your expectations. Ironically, this means it can be quite sluggish and rough over sand.
The comfortable seat and swept-back handlebars make riding the E wave 2.0 a pleasant experience. The 500 W motor, combined with the nine-speed drivetrain, makes peddling super easy in most situations.
Beach cruisers tend to have a longer wheelbase and are low-slung. This makes the E wave incredibly stable, but it doesn't change direction quickly like a BMX. But that isn't the point, as it is designed for relaxing rides, not for blasting around.
Display And Controls
American Flyer has fitted the E wave 2.0 with the King Meter T320 display and controller. This is a very basic controller with no LCD display. Instead, it has a row of LED lights to indicate the mode you are in and another to indicate your battery level. It also features buttons to select the mode and a power button. Although this controller is straightforward, it is effortless to use and well-made.
You cycle through the gears with a simple trigger shifter from Shimano. There are 9 gears on the ewave 2.0.  You can also mount the thumb throttle on the left or right-hand side of the handlebars to suit your preference.
Safety
American Flyer has fitted the E wave 2.0 with Shimano mechanical disc brakes. These items are powerful enough for what most people will use this bike for, even in wet weather. However, they haven't fitted this bike with lights. Therefore, you will need to purchase some if you ride in low-light conditions.
In our experience, most electric bikes come with lights because a lot of riders use them on public roads. They contribute to the safety of the rider along with the safety of other road users. We think the omission of lights, or even reflectors is a huge mistake and is reflected in our review score.
An ebike without lights simply isn't safe to use at night.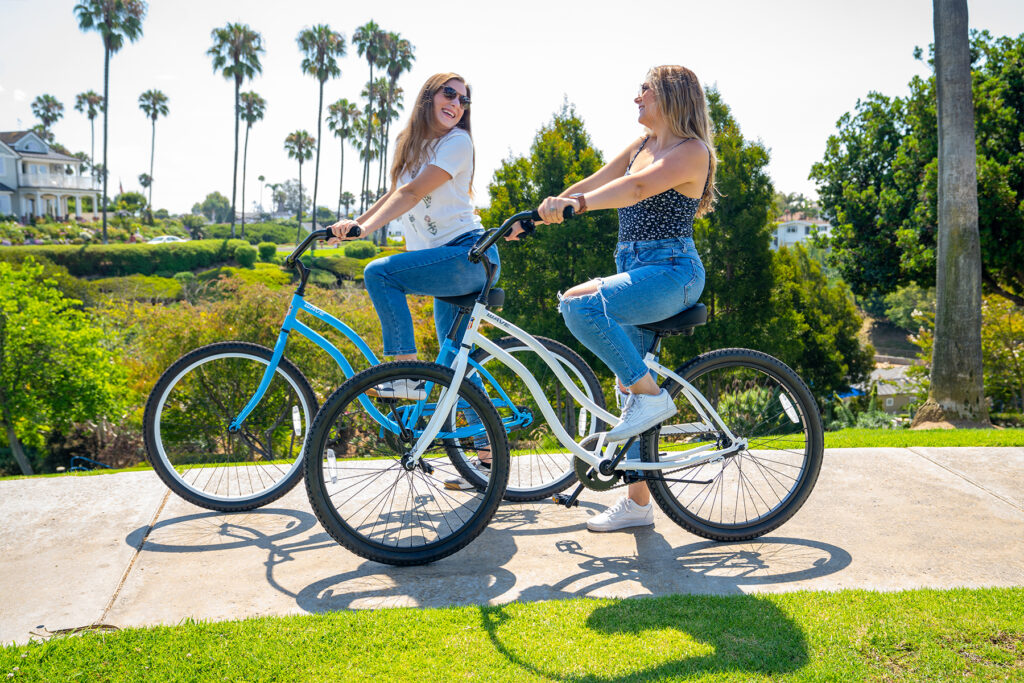 How Easy Is The E Wave 2.0 To Live With?
The E wave 2.0 is a simple electric bike. It doesn't come with cargo racks, but you can buy baskets that hook over the handlebars to give you some storage capacity. If you have to carry lots of things for your commute or want something that will replace your car for running errands, consider looking at a different kind of electric bike, such as a cargo bike.
However, you will like the upright riding position, which is great for riding around town. It is much safer than being hunkered down over the handlebars. It also makes you feel pretty cool while peddling through the streets on a sunny day with your shades on.
We really like that you can remove the battery, which is excellent for security and charging. It also means you can easily swap it for a battery that is already charged.
Wrapping Up Our E Wave 2.0 Electric Bike Review
One of the great things about riding an electric bike is how they make you feel. The E wave 2.0 is an excellent bike for cruising around in the sun through town or to the beach. It provides great range for most cyclists, and its simplicity means there is less to go wrong with it. There are no lights on the E wave 2.0 meaning riding it in the dark or low light conditions is going to be dangerous.
We give it a 6.9/10. It's a good bike, but we think it's a little overpriced given what's on offer. In our experience, electric bikes at this price point come with a little more. A better LCD for example, and a light. That said, it's well made, feels strong, and rides well. We feel it just needs that finer touch.
It may not be the most practical bike for everyone, so you need to work out what you're going to use the bike for before purchasing it. 
Enjoyed our Ewave 2.0 electric bike review? You can read more ebike reviews here, or you can head over to our blog for general hints, tips and advice on electric bike purchasing, care and maintenance.