Hurley was founded in 1999 in Huntington Beach, California. It started out making shorts for surfers but has become a global youth culture brand based around beach life. Like most successful companies, Hurley has branched out into other topics, such as the Hurley Layback electric bike.
In this Hurley Layback electric bike review, we'll dive into the details of the Hurley Layback. You will learn precisely what this electric bike is for and all the intricate details so you know if this is the right one for you.
What Is The Hurley Layback Ebike?
With its sweptback handlebars and classic frame design, there is no doubt what the Hurley Layback is for. You're clearly not going to be riding gnarly mountain bike trails on this bike; its design and features lend themselves to cruising around town and along the beach to your favorite surf spot, café, or bar.
The classic beach cruiser design is simple but enhanced with an electric motor and battery to make life even easier and the riding experience more fun.
The Hurley Layback is ideal for someone who wants a cool and stylish way to get around. This is the kind of bike you use to see friends and get some exercise in the fresh air. Some people may use their Hurley Layback for commuting, but there are more suitable bikes if commuting is your priority. For example, you may want to choose a more powerful electric bike or one with a multi-speed drivetrain or cargo rack.

Hurley Layback Features And First Impressions
Motor And Battery
Hurley has equipped the Layback with a 350 W brushless electric motor mounted in the rear wheel hub. This is powered by a 36 V 10Ah battery. You can choose between two modes, one assists your peddling, and the other is a throttle mode. The throttle mode allows you to ride without putting any effort into the pedals, just like riding a scooter.
This motor and battery combination gives you a maximum assisted speed of 20 mph. You also get about 30 miles of range depending on the profile of your journey, how heavy you are and how you ride. So if you manage your battery life well, you can cruise around on your Hurley Layback for much longer.
The battery is externally mounted on the inside of the seat tube. This is the only visual thing differentiating it from a regular beach cruiser. You can remove the battery, which is excellent for security and for prolonging the lifespan of the battery (as we don't really want to leave it in direct sunlight). However, if you do leave the battery mounted to the bike, there's no need to worry too much because it has a pretty strong lock.
Hurley has opted to use a cadence sensor rather than a torque sensor for this bike. This design keeps the Layback simple, as cadence sensors don't need complicated hardware that can be difficult to maintain. We like cadence sensors, but only on suitable ebikes. One on the Layback is unwarranted, that's not the kind of riding the bike is built for. The design means that the Layback's motor starts working as soon as you start peddling, regardless of how hard you push on the pedals. Therefore, the riding experience is much simpler, suiting the style of the bike.
The system also means you have consistent power delivery, making it easy to maintain a constant speed, especially when riding a road that undulates with the terrain. On top of this, the cadence sensor system is more energy-efficient, so you should be able to ride further before you need to recharge your battery.
Display And Controls
The handlebar-mounted display unit is incredibly simple. It consists of an LCD screen and buttons to select modes, etc. The screen is pretty clear to see even in direct sunlight, so you can easily check your battery level, current speed and distance. It's not the most sophisticated controller and display you ever see on an electric bike. However, it does the job and keeps the bike affordable.
Frame
The Hurley Layback has a classic beach cruiser style frame. This means it has a retro style, and you ride in a relaxed and upright position. The design also means that the Layback has a low standover height, making getting on and off it effortless.
Don't expect exotic materials such as carbon fibre at this price. Hurley has stuck to the traditional beach cruiser frame material of steel. Although this is quite heavy at 21.45kg, it is incredibly strong and durable. It also contributes to a smooth ride quality thanks to its excellent vibration damping.
You can only buy the Hurley Layback with a 20-inch frame. However, it is designed to fit riders between 5'4 and 6'2.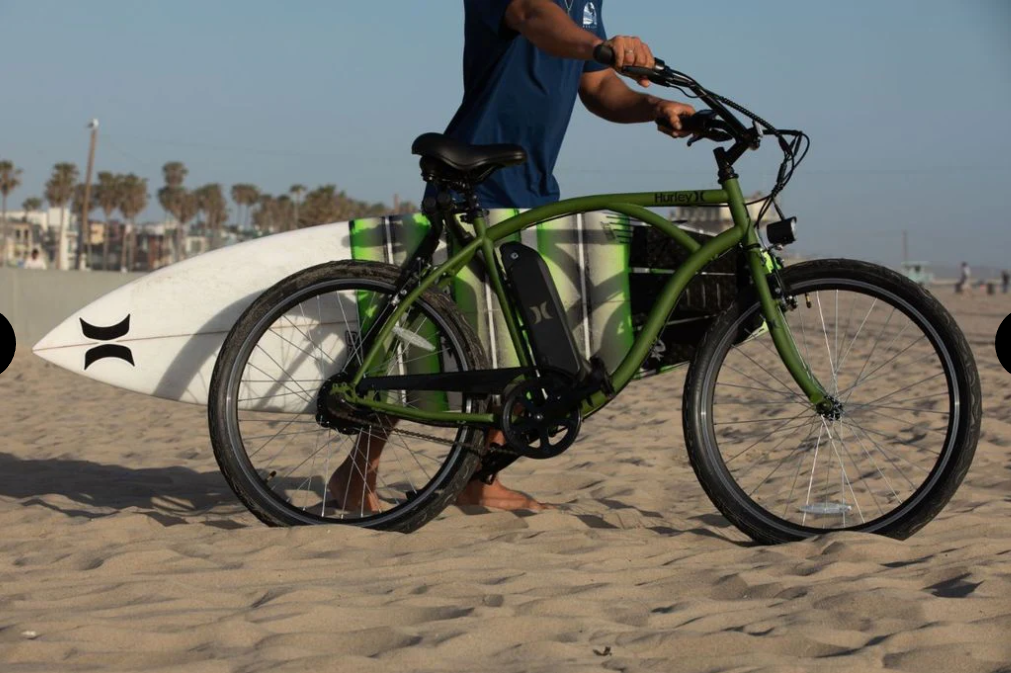 Wheels And Tires
Hurley has decided not to reinvent the wheel for this bike. They have fitted 26-inch wheels, which is a standard BMX size. This means you have good acceleration and agile handling for weaving around obstacles and pedestrians while cruising along the seafront.
These wheels feature 2.1-inch wide tires from Wanda. These tires are sticky and perfectly adequate for riding around paved roads. The double wall wheels are strong and help smooth out vibrations from the road.
If you use this bike for what it was intended for, the wheels are perfect. If you try to use it for something else you'll find the bike unsuitable. We feel Hurley are open and honest about the bikes design and what it should be used for.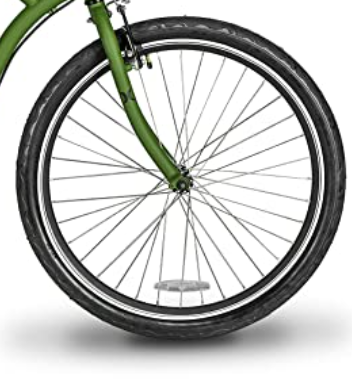 Brakes
Usually, we would recommend Electric bikes have disc brakes due to the extra weight and speeds associated with electric power. However, the Hurley Layback has alloy calliper brakes. These are adequate for this kind of bike, as it's not like you'll be tackling technical descents or riding at breakneck speeds all the time.
A significant advantage of calliper breaks is that they are super simple to maintain, even if you are not very experienced at fixing and adjusting bikes. The simplicity also keeps the Hurley laid-back at an affordable price.
The main disadvantage of these brakes is that they are not as effective when riding in wet weather. Therefore it would be wise to ride cautiously when conditions are a bit soggy.
Drivetrain
You've probably realised by now that Hurley has done their best to make the Layback and straightforward electric bike. This follows through to the single-speed drivetrain. Having a single-speed drive train does mean you cannot change gears, but it also means there are fewer things to go wrong, you save weight, and the overall price of the bike is much less.
The electric motor compensates for the lack of gears. However, if you live in a particularly hilly area, you may want to consider a bike with a multi-speed drive train with a wider gear range.
What's The Hurley Layback Like To Ride?
As the name suggests, the Hurley Layback provides an incredibly relaxing riding experience. The frame, geometry, sweptback handlebars and plush saddle make this a very comfortable bike to ride.
However, you will only experience this comfort if you ride it in the right environment. The Hurley Layback is designed for smooth paved roads and cycle paths. So if your local area is riddled with cobbled streets, bumpy roads and uneven surfaces, you may want to choose a different kind of electric bike, namely one with suspension, fat tires or larger wheels. But when you ride a Hurley Layback in its natural environment, you will absolutely love it.
We like how fun this electric bike is to ride. It might not have big power figures, but riding the Hurley Layback with pedal, assist or on the throttle is hugely entertaining. This is partly down to the 26-inch wheels that give it agile handling, which is complimented by its sticky tires.
Even though Hurley has built the Layback to be a simple electric bike, it comes with a kickstand so that you can prop it up quickly outside your favourite café. It also features a bright headlight so you can still ride home safely when the sun has gone down.
Our Verdict Of The Hurley Layback
The Hurley Layback electric bike is a modern take on the classic beach cruiser. This means you get comfort combined with user-friendliness and simplicity. Therefore, it is an excellent electric bike for those who want a stress-free way of getting around town, exercising or simply visiting friends.
The simplicity of the Hurley Layback suits its relaxed style. If it came with a whole host of bells and whistles, the Layback would not be as cool or as satisfying to live with. The lack of fancy features also makes it ideal for those who don't want to spend their free time tinkering with and fixing their bike.
Another significant benefit of this simplicity is that you get a quality electric bike for a fraction of the cost of more complicated models. Of course, this comes with compromises, but you have to weigh up what is important to you.
You may find similarly priced electric bikes with more features, but there's a good chance they will have reliability problems. But the Hurley Layback is a robust electric beach cruiser that will satisfy the needs of most urban riders looking for cheap and cheerful fun.
In short, if you use the Hurley as the manufacturer intended then it's perfect. If you try to take it out of its comfort zone, it certainly won't perform as well.
We give it a solid 8.0/10
If you've enjoyed our Hurley electric bike review, you can find more reviews on our website. You'll also find blog posts that can help you care and live with your electric bike going forward.